Interdisciplinary Design Studio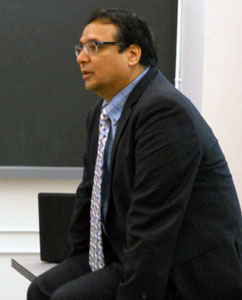 The program, called
Interdisciplinary Design Studio (IDS)
, teaches students how to become innovative entrepreneurs.  The program started in the fall of 2011 with 24 Honors freshman. Working in teams of four, the students came up with some great project ideas.  One team, for instance, designed interactive toys that help autistic children. Another team designed a device to monitor the elderly who live at home, while a third designed a non-invasive glucose meter for diabetics.
The teams work with faculty advisers and industry mentors who counsel them on all aspects of their projects. The teams also develop business, marketing and financial plans to sell their projects.  IDS students have a chance to commercialize their products and launch their own start- up companies, which could be based in NJIT's business incubator (EDC), a home for start-up companies in New Jersey.   
"We believe that the design studio will educate students in a way that they can take their innovate ideas and commercialize them," says Dr. Atam Dhawan, Executive Director, Undergraduate Research and Innovation (URI). "They will be the future leaders in the global marketplace." 
The IDS program was established by Dr. Dhawan during his tenure as Associate Dean and, later, interim Dean of the Albert Dorman Honors College. The success of the initiative has enabled expansion beyond the Honors College and the program is now open to all students at NJIT through participation in the URI Program.
Please check the URI web site for additional information on how to participate.
To view sample research and projects from Honors students who enrolled in the IDS Program, check here.