The Best and the Brightest: the Honors College Has its Brightest Freshman Class Ever
The Albert Dorman Honors College, known for its high academic standards, often has a bright freshman class. But this year's class is the brightest ever.  For the 2008 fall semester, 20 freshmen achieved 4.0 grade point averages. And 18 more freshmen achieved either 3.8s or 3.9s.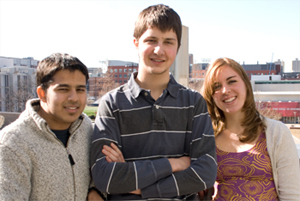 The freshman class is rife with high school valedictorians, salutatorians and National Honors Society members.  Nearly 90 of the students arrived with advanced placement credits and 54 tested out of Calculus 1. The class's average SAT score in reading and math topped 1300, said Lois Hulin, Assistant Dean for Enrollment at the Honors College. 
"Our students commonly rank among the top academic performers in the nation," Hulin added, "but this year's freshman class is exceptionally accomplished.  And with 161 students, it's also the largest freshman class we've had.  So it's a record class in both quantity and quality."
The Honors College had a talented pool of high school seniors to choose from, since 2008 applications increased by 25 percent.  As a result of the keen competition to get in, the college selected outstanding students.
The college prides itself on offering small honors classes and, despite the growth of the college -- it now has a total of 646 students -- the intimate class size will continue.
One freshman, Faizan Naqvi, a mechanical engineering major, says he's happy with the size of his classes. 
"In my math and physic's honors sections, the small size of the classes is a big plus," said Naqvi, one of the 18 freshmen with 4.0 GPA. Naqvi is, moreover, the third member of his family to attend the Honors College. His two older brothers, Salman and Mohammad, have both won major national scholarships. 
Michael Anderson, another honor's freshman with a 4.0, echoed Faizan's assessment: "The honors section classes are still plenty small with fewer than 25 students," said Anderson, who majors in electrical and computer engineering 
Hillary Thaon, a civil engineering major who has a 4.0 GPA as well as five scholarships, said there were just 15 students in her English honors class; the class, she said, was not only small but intellectually invigorating.
"We read great books and the student wrote interesting essays," says Thaon, a graduate of Staten Island Technical High School, which, according to U.S. News & World Report,  is one of the top high schools in the nation.
Thaon loves the Honors College. She made a lot of friends at the freshman class retreat in summer; she loves her classes and says the Honors College staff always offers helpful advice.  And her scholarships are a big financial relief. 
"The scholarships that the Honors College has given me allow me to receive a wonderful education without a financial burden," Thaon said.  "When I graduate in 2012, I hope to have demonstrated measurable growth from the person I am today."