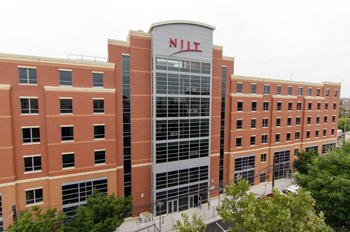 All first-year students are encouraged to apply to live in the Honors Residence Hall. Located at the Warren Street Village, the residence hall opened in 2013 and is the newest hall on NJIT's campus. The Honors Residence Hall includes suite-style double rooms and single rooms as well as lounges on the upper floors. The six-story, co-ed building houses 360 honors freshmen and upperclassmen.
Students enjoy convenient access to project studios, the Kennedy Honors Center, as well as Honors administrative and student government offices on the second floor of the hall. On sunny days, many students will hang out on the green behind the residence hall,
lounging on the grass or grabbing a bite to eat from the Village Market.
 
Kennedy Honors Center
The Kennedy Honors Center is a dual-purpose space, providing places for students to focus on academic activities and socialize with friends. Bury yourself in the quiet Honors Study Room or Honors Computer Lab for some serious quality time with your textbooks. Or, relax in our well-equipped Honors Lounge - enjoy a game of cards or chess, watch TV or listen to music with your fellow students. The lounge is outfitted with a big screen TV, stereo and video equipment, a billiards table, a ping pong table and also contains a kitchen with counter space, refrigerator, microwave oven, and cabinets.
 
Gil Glass Library
​
Room 213
- Return all books by the end of each semester.
- If a book is not returned, please send a note to HONORS@NJIT.EDU with an explanation.
- To maintain a clean and pleasant study environment while preserving the library materials, equipment, and furnishings, please do not move the furniture, and with respect to food/drinks use good judgment to ensure that no trace is left behind and no damage is caused.
Ground Floor Amenities
The Honors Residence Hall's first floor is open to the entire campus. It includes Village Market, a convenience store, a fitness center and a Smashburger.
 
For more information, please visit: