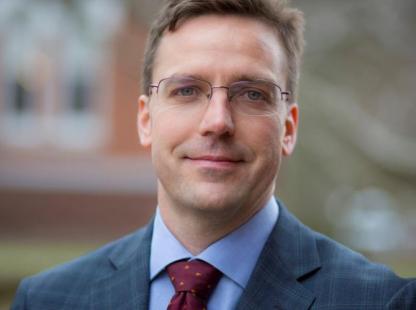 Welcome from the Dean
Welcome to the Albert Dorman Honors College
Since its inception as a Program in 1985, and then as a College in 1995, the Albert Dorman Honors College has thrived as a vibrant intellectual community of scholars, faculty, alumni, industry leaders, and a caring staff. We are joined by a common mission of pursuing the finest possible education and by our deep commitment to serving the University and our neighbors in the City of Newark.
The Dorman Honors College offers a uniquely rich and challenging educational experience to the strongest students from across the State of New Jersey and the nation who have demonstrated excellence in their studies and engaged in exceptional learning and service activities.
With the thoughtful advising of our staff, Honors Scholars optimize their own educational path. They chart their future through Honors courses, colloquia, study tours, research experiences, service learning, dual degree and study abroad programs, a variety of accelerated degree partnerships, and internships.
We prepare our scholars to become global leaders in industry and society. Dorman Scholars are recognized for their academic achievements, integrity, and commitment to civic engagement.  We empower them to engage the complexity of the world around them, to pose the most important questions and propose and take on real-world solutions.
The results speak for themselves. In the fall of 2017 alone, Dorman Scholars have started to build New Jersey's first solar car, led the University effort to provide disaster relief in Puerto Rico, presented their research at the National Academy of Engineers Grand Challenges for Engineering conference, and launched a campaign to make NJIT a smoke-free campus, to name only a few of their initiatives.
Our scholars live and learn together as a community here at our beautiful facilities on Warren St., but their experiences and careers are global.  They have been recognized with the most prestigious of national awards, including National Science Foundation Grants, and Fulbright, Goldwater and German Academic Exchange scholarships.  Many of our alumni have founded their own companies; others are leaders at corporations such as AECOM, Amazon, Google, IBM, Lockheed Martin, Microsoft, Prudential, Stryker, and UPS.  They have gone on to medical and graduate schools at institutions such as Boston University, Caltech, Columbia, Georgetown Law , Johns Hopkins, MIT, University of Pennsylvania, Princeton, and Thomas Jefferson Medical School.
The Albert Dorman Honors College staff, faculty and business stakeholders are always innovating and expanding the Honors experience to achieve the ever-changing goals of our scholars. We are a highly dedicated community of professionals who are here to support you on your path.  Join us and discover what we can achieve together.
Sincerely,
Louis I. Hamilton, Ph.D.
Dean, Albert Dorman Honors College
Professor, Federated Department of History