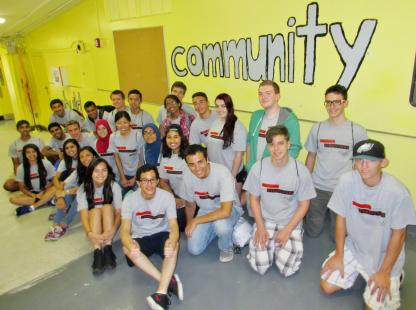 The Center for Leadership and Civic Engagement (CLCE)
Vision
The Center for Leadership and Civic Engagement seeks to develop students into conscientious global leaders who understand the value of ethics, social responsibility, sustainability, and who will champion social transformation within their professions.
Mission
To facilitate the growth of Honors scholars as conscientious global leaders, the Center enhances the teaching, learning, research and leadership development through the Leadership and Civic Engagement Track (see below).
Values
The values that will inform the Center are the same as those espoused and practiced by the Honors College.  We believe that "Effective leadership is nourished by strong ethical values and we will reinforce this notion by calling on our students to strive to be recognized not only for their integrity and professional excellence, but also for their passion, their compassion, and a deep sense of service to the community."
The values of the Center are:
INTEGRITY
PROFESSIONAL EXCELLENCE
PASSION AND COMPASSION
SERVICE TO THE COMMUNITY
ADHC's City Leadership & Civic Engagement Track
Program Mission
Through the CLCE, Honors scholars develop leadership skills while using their technical and major area expertise to serve our neighbors in Newark. The CLCE offers scholars the opportunity to learn and grow in partnership with our neighbors, while developing valuable life skills.
Program Objective
To develop our student as leaders, following a "servant-leadership" model through the following:

Focused courses
Community service
Leadership colloquia
Project development
Program Components
One research methodology course
One Newark course: History, Environment, Society courses
Two Service Learning Enhancement courses       
Four elective honors courses       
Attend one leadership colloquium per semester
Design and submit a community-based service project
Service Learning Component
Students will complete two Service Learning Course Enhancements that will culminate in a service learning proposal based on a community need in relation to our service partners
Identify a community need
Student creates a proposal to meet the community need
Upon successful completion of the two Service Learning Course Enhancements, students will participate in a "service learning project" pitch to a panel of faculty and members of the Community Advisory Board (our service partners).
Up to three students with the most applicable service learning project proposals will be selected to implement their project with the service partner.
Students who are not selected will collaborate with the selected students to implement their projects as a team.
Coursework
One research methodology honors course designated as part of CLCE (see below)
One Newark-based course: History, Environment, Society honors course designated as part of CLCE (see below)
Four elective honors courses
Major capstone course
Optional approved milestone experience
CLCE Colloquium (one per term)
Service Learning Component
Two Service Learning Enhancement courses
Service learning project proposal
Appropriate community service
City Leadership & Civic Engagement Track Coursework
Designated CLCE Research Methodology Course (pick one)
Fall 2019
EPS 202 H Society, Technology, and the Environment │ Qiu, Zeyuan │ W: 6:00-9:00PM
STS 205H Introduction to Research Methods (typically offered in Spring)
CE 485H (Forensic Engineering) │ Shah, Vatsal
EE 4xx (Water Quality) │Boufadel, Michel
Designated Newark-based: History, Environment, Society Course (pick one)
Fall 2019
HSS 403H Newark Narratives │ Curley, Jonathan │ T,R: 2:30-3:50
Arch 679 Envisioning Newark │ Schuman, Tony  │ W: 11:30-2:20
Environmental Justice (Grad Course listed at Rutgers)  │ Neil Maher
ENG 350 Newsroom │ Ascarelli, Miriam (Tentative, typically offered in Spring)
Recommended Courses
STS 363HM Intro to Sustainability Studies │ Cohen, Maurie
STS 308HM Tech & Global Development  │ Rothenberg, David
STS 364HM Sustainability Policy & Practice │ Cohen, Maurie
STS 312HM Technology and Policy in Contemporary America │ Holbrook, James
ENG 340H Oral Presentations │ Castronova, Louise
HIST 213H Twentieth Century World  │ Scott Kent
IS 350 Computers, Society and Ethics