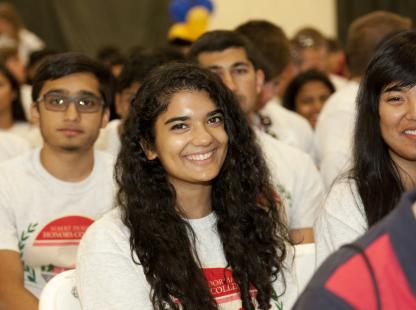 Honors College First Year Seminar
First year Seminar is a requirement for graduation for all first-time college students at NJIT.
Dorman Honors College First year Seminar 
The Dorman Honors College has a specifically designed seminar for all Honors first year.  As a result of the Honors first year seminar course, students will develop an academic portfolio which will include such items as personal reflections of the first college semester, development of an honors education plan (HEP) and begin the creation of two resumes.  During the course, students will discuss the responsibilities of being a successful college student, the academic honor code and ethics, be introduced to college research, and the support network within the university.  Leadership skills and the group presentations will be emphasized.  The course will be facilitated by an instructor and teaching assistant who is an upper class Honors College student.
HONORS FIRST YEAR SEMINAR SYLLABUS 
Syllabus subject to change
SESSION #1

 

 

 

 

  

  

  INTRODUCTION:    The goal of First Year Seminar is to help students be successful in academic courses and connect with university resources/opportunities

Goals and expectations of college students/ icebreakers
Students to write & discuss 3 questions they have about college life
Brief overview of NJIT and the Honors College
Review of university policies and academic calendar
9/13/19 - last day to add/drop
Honors College Center – general information about rooms/labs
Students hand in HEPs, Summer Reading Assignment
Brief discussion of HEP – what did you learn about major and academic planning

SOME ASSIGNMENTS FOR SESSION #2:

   1.    Write First Reflection paper for portfolio

   2.    Read "The Fruitful City: The Enduring Power of the Urban Food Forest" by Helena Moncrieff.

   3.    Read NJIT University Policy on Academic Integrity https://www.njit.edu/policies/sites/policies/files/academic-integrity-co...

  4. Attend Freshman Convocation, Wednesday, September 29th in the WEC

SESSION #2

 

 

 

 

 

 

 

 

 

 

LEARNING TO BE A RESPONSIBLE STUDENT: Identifying your study skills

"What I learned so far" – round robin student sharing first week experiences
Discussion about "Thought of First Year" Letter/ Learning article
Differences between high school and college –peer interaction
Art of communication: Classroom etiquette and e-mail protocol
Time Management and Study Skills activities
What are common exams?
Discussion of Honor Code and responsible behavior
Understanding and How to Recognize Plagiarism: web links

https://www.plagiarism.org/article/preventing-plagiarism-when-writing

https://style.mla.org/plagiarism-and-academic-dishonesty/

Overview of Colloquia - Beyond the Classroom assignment to be discussed. 
Introduction of Group project

ASSIGNMENTS FOR SESSION #3:    

       1. Read "Group Presentations" & "Team work" (web links)

       2. Read through the Honors colloquia selections as:  

                       honors.njit.edu/news/colloquium/  

    

 

SESSION #3

 

 

 

 

 

 

 

 

LEADERSHIP and CIVIC ENGAGEMENT: Being an Honors Scholar at NJIT

Introduction of leadership concepts – combining academics & student life

Activities on decision-making skills
Honors Community Service projects
Discussion about group work & team work

Assignment of group projects and teams

Discussion about "Darwin Comes to Town"

 

  ASSIGNMENTS FOR SESSION #4:

1.       Write draft of current resume

2.       Attend Career Fair, Wednesday, October 2nd (12 pm – 5 pm)

 

 

SESSION #4

 

 

 

  

ACADEMIES and CAREER DEVELOPMENT: Choice of major and future career goals

What do students know about their majors
Discussion of Interdisciplinary Honors Curriculum 
Importance of resume while an undergraduate
Civic engagement & internships through CDS & major departments         

   ASSIGNMENTS FOR SESSION #5:   

Group topic and proposal description due
Bring revised HEP and laptop to next class

 

SESSION #5

  

 MANAGING YOUR EDUCATION

Review and discussion of honors requirements
DegreeWorks: keeping up with your academic progress

   ASSIGNMENTS FOR SESSION #6:   

Review summer reading assignment. Summarize your chosen research topic and think about where you can learn about research connections at NJIT as an Honors Scholar
Write draft of future resume

 

SESSION #6

 

 

 

BEING AN HONORS SCHOLAR:  Milestone opportunities RESEARCH  & Study Abroad, Internships/Co-ops    

Round robin discussion about group research progress
Discussion about research opportunities

 

SESSION #7

 

 

SPRING REGISTRATION ISSUES & Academic Issues

   ASSIGNMENT FOR SESSION #9:

Draft a paragraph or two about which clubs/organizations/activities are of interest to you while at NJIT. How can you learn more about them?

 

SESSION #8

 

 

 

 

   BEING AN HONORS SCHOLAR: STUDY ABROAD AND PRESTIGIOUS FELLOWSHIPS

   ASSIGNMENT FOR SESSION #9:

What is Study Abroad?
What are the Prestigious Fellowships?

 

 

SESSION #9

 

 

THE COLLEGE COMMUNITY AROUND YOU: Diversity

Discussion of similarities and differences within our college community
Class round  - robin activity to learn about each other through the student Interviews
University resources available  - clubs/ organizations/ community service 

 

 

SESSION #10

THE ART OF EFFECTIVE PRESENTATION: Toastmaster Interactive Presentation

Write final reflection paper – what have you learned about yourself as a college student since you began at NJIT and what are your plans on how to approach finals.

The deadline for submitting community service in Moodle which was completed during the fall semester is December 20, 2019. Any community service done during the winter break will be applied for the Spring 2019 semester.

 

 

SESSION #11

 

 

 

 

GROUP PRESENTATION

ASSIGNMENT FOR SESSION #12:

Write the Beyond the Classroom Colloquium paper

 

 SESSION #12

 

GROUP PRESENTATIONS (continued)

Course conclusion & moving on to second semester freshman year