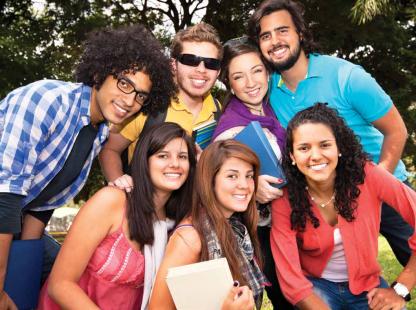 Service to Campus and Community
One mission of the Albert Dorman Honors College is to prepare leaders who are dedicated to the improvement of society. 
Students are encouraged to become proactive members of not only the NJIT community but also the surrounding Newark community. Community Service offers meaningful opportunities for Honors students to engage with their communities on a deeper level and understand the true concept of giving back.
Requirements
The Honors College asks students to perform 15+15 hours of community service per semester in order to maintain their standing as Honors scholars.
15 hours (minimum) in service to the NJIT campus

15 hours (minimum) in service to the greater Newark community or any approved off-campus service
Submitted hours should provide the supervisor's contact information listed appropriately.  (Agency supervisors hold the right to not approve hours that are completed in an unsatisfactory manner.)
Alumni Association of NJIT Podcast: Learn to podcast, build your portfolio, and network with influential alumni! The AANJIT is launching a podcast highlighting alumni and other members of the NJIT community and looking for students to help with production and promotion. Specific roles include:
Design Lead
Social Media Lead
Production Lead
Video Editor
Researcher
Alumni Outreach Liaison
Event/Interview Coordinator
No prior experience required! For more information, contact Awais Qazi '17 at awais.a.qazi@gmail.com.
NJIT First Aid Squad (NJIT FAS) and NJIT Public Safety Community Service Officers (NJIT CSO)
Serve your NJIT community as a member of the NJIT First Aid Squad or as a NJIT Public Safety Community Service Officer https://www5.njit.edu/publicsafety/student-emt-cso-program-0/
NJIT Student Activities Council (SAC)
The NJIT Student Activities Council (SAC) organizes numerous activities throughout the semester and is looking for volunteers - please contact them at sac@njit.edu for more information!
Internal Volunteering with AIAS
Interested in Volunteering in NJIT's AIAS Printing Services?!
Where: The Print Room, The Shop, or The 3D Lab at the Hillier College of Architecture and Design
What is it? These services are student run organizations that provide printing abilities for you to succeed in your projects and classes!
AND.... If you're an Honors Student, the hours count towards your internal volunteer hours!
For volunteering YOU will receive a discount that applies to: The Print Room, The Shop & The 3D Lab!
Volunteer for:
1.5 hours (1 shift) = 25% Discount
3 hours (2 shifts) = 50% Discount
Fill out the form to indicate which service you would like to volunteer for. You can definitely do all three, two, or just one! There will be training, so no prior experience is needed! Print room form; 3D lab form; Shop form
If you have any questions, please email aiasnjitprintvolunteer@gmail.com.
WJTB Radio, NJIT's College Radio
WJTB Radio, NJIT's College Radio, is looking for volunteer roadies for on-campus events. This involves the setup and teardown of professional audio equipment. We run live audio for hundreds of Student Org and School-run events every year!
To learn about upcoming opportunities and to receive live events training, please Email WJTB at WJTB@NJIT.edu, or join WJTB's official discord (https://wjtb.njit.edu/discord).
Honors Ambassador
Connect with prospective students and share your experience as a Dorman Scholar. You will need to be available for training and for online admissions events that may occur either after hours or on weekends.
Please contact Lauren Kawakami: kawakami@njit.edu
Robotics
Do you want to create educational materials about robotics? The Robotics Club has an internal service opportunity for you! We are creating an arsenal of robotics-related educational materials, with general skills as well as FRC/VEX-specific knowledge!
How it Works: NJIT students will choose what types of educational material they want to help create. They will work independently or collaboratively (preferred) to put their knowledge into Google Slides that will be published. We take people with all sorts of knowledge, from mechanical and electrical to programming.
Volunteer Hours: You will earn hours based on the time spent making material.
Info: Contact robo-mentorship@njit.edu and join the Discord (https://njit.gg/robotics) for more information.
NJIT National Residence Hall Honorary (NRHH) is looking for volunteers for their Grilled Cheese Events happening Weekly in Honor's Kitchen: Thursday nights from 10:00pm to 1:00am: tinyurl.com/NRHHGrilledCheeseVolunteer
Education & Tutoring
New for Spring 2024: Caldwell-West Caldwell School District Tutoring
The Caldwell-West Caldwell School District is looking for NJIT Honors Scholars to serve as Math and/or English tutors for the Spring 2024 semester. Tutoring will occur on-site in the Caldwell-West Caldwell School District on Tuesdays, Wednesdays, and Thursdays during lunch periods. For more information and to apply, click here!
Robotics
The Robotics Club is looking for more members for our Mentorship Program! We are looking for people with all sorts of backgrounds, from assorted technical skills like CAD and programming to even essay writing and business management. We are also looking for volunteers to help out at VEX and FRC events. If you are interested in teaching high school students in VEX and FRC about STEM, robotics and other assorted skills, please join our Discord (https://njit.gg/robotics). We offer both internal and external volunteer hours throughout both semesters. Any questions? Contact us at robo-mentorship@njit.edu!
NJIT Center for Pre-College Programs
Newark Kids Code presents: Newark Tech House Earn your hours and help middle school students discover their passion! Help teach students in any of the following subjects: Python Programming, Audio/Video & Film Production, Virtual Reality/Augmented Reality, 3D Printing, Robotics.
Newark Public Library
Many volunteer positions of various types are offered through the Newark Public Library.
Girls Who Code Chapter - Coaches Needed
The Albert Dorman Honors College is seeking coding coaches for its new Girls Who Code Chapter! Girls Who Code is a non-profit organization dedicated to helping teach computer science to underrepresented girls. The ADHC chapter is currently focused on improving access to tech education for high school girls in Newark. Coding coaches can be any undergraduate student (Honors or non-Honors) but must have passed CS100 or have basic Python knowledge. Volunteer hours are available!
For more information, please join our discord server (https://discord.gg/BQYuyF9u9w) or email us at girlswhocode_njit-group@njit.edu.
JerseySTEM Program Instructors
Volunteer with JerseySTEM as a Program Instructor, coaching Block Coding, Fun Chemistry or BuildersaMakers activities to middle school girls from underserved communities in Newark and New Jersey. JerseySTEM provides Program Instructors with full training, transportation and support to deliver the program. Volunteers serve once a week, 2 hours, for about10 weeks at school location. You will have the opportunity to network with STEM professionals, be mentored by young professionals from Large and Small Tech companies while you are giving back to the community. Apply here.
Blissful Coding Club
Blissful Coding Club is a nonprofit organization designed to help students in underrepresented communities gain knowledge and interest with regard to computing. Blissful Coding Club, NJ 501c3 nonprofit organization, offers student and volunteer internships of FREE VIRTUAL coding classes and workshops. We offer Scratch, Python, Cybersecurity, App Development, HTML, Cryptography and more, of all levels.
We offer unpaid internships and nonprofit volunteer opportunities to sharpen your computer science and leadership skills.
Please visit www.blissfulcodingclub.org for more information.
Lyra
Lyra is a 501(c)(3)-certified non-profit working to supplement STEM+ curricula in high schools with hybrid workshops on career readiness, planning, and execution. Mentors would be trained to lead these workshops and help educate high schoolers on critical career development skills that can't easily be found in a textbook or classroom. Commitment is ~1-3 hours per week, depending on the school schedule. For more information, you can visit
https://www.lyrastem.org
or send us an email at
lyrastem@gmail.com
!
Tutoring Opportunity: NJIT's Society of Hispanic Professional Engineers (SHPE) is partnering with the Newark Public Library - Main Branch to provide tutors for students ages 5 through 18. Subjects consist of Math, Sciences and English. Sign-Up: Tutoring at Newark Public Library
Health and Aid Initiatives
North American Disease Intervention
Do you want hands-on clinical experience while serving the Newark community? NJIT NADI helps fight and prevent chronic conditions such as diabetes, hypertension, and cardiac issues by performing health screenings for patients in Newark and giving them lifestyle-preventative suggestions. NADI hosts health screenings both on-campus and off-campus around Newark where upon completion of their training, their members are able to measure heart rate, blood pressure, blood oxygenation, and other health metric to offer preventative counseling. The medical equipment, required training, and rides are provided by the club. By being a member of this club, you get the opportunity to make a direct impact on the lives of the people in our community.
If you have any questions please email njit.nadi@gmail.com.
For more information and to get involved please visit the Highlander Hub page. After joining the organization from the page, you will be able to know about our upcoming events. https://njit.campuslabs.com/engage/organization/NADI
Newman Catholic Club's Extra Mile Homeless Ministry
Would you like to fulfill your Honors hours while bringing a smile to people's faces? Newman Catholic has just the thing for you! Join us weekly at the Newman Center next to Saint Patrick's Pro-Cathedral for our Extra Mile Homeless Ministry: we make and package sandwiches and drinks and walk down to Pennsylvania Station where we distribute them to the homeless! This event is weather dependent so make sure to check Highlander Hub and RSVP accordingly. Also, join our Discord for frequent updates!
Students for Hunger Relief
Have you ever wanted to help address the food insecurity in our Newark community? Students for Hunger Relief is a student organization dedicated to relieving hunger throughout Newark. We hold meal packing and distribution events, providing our members with the unique privilege to hand deliver and prepare filling meals for the food-insecure around Newark. We also support and collaborate with local soup kitchens by supplying extra meals, volunteers, research, and conducting joint events. As a member, you will be making a difference in people's lives: meeting and learning from those you help, as well as seeing the results of those efforts through the joy and gratitude on their faces.
To get involved, click the link below for our Highlander Hub page. Join the organization and you will be added to our mailing list to be informed about upcoming events. If you have any questions about this opportunity, feel free to reach out to sfhrnjit@gmail.com.
Highlander Hub Page: https://njit.campuslabs.com/engage/organization/sfhr
Sustainability
Jersey Cares
Jersey Cares offers hundreds of volunteer opportunities, including many in Newark such as the Jersey Cares - Care of the Park initiative in Branch Brook Park.
National Residence Hall Honorary (NRHH) and NJIT Public Safety Community Clean-Ups
Lead by example while serving the NJIT and Newark community by joining the National Residence Hall Honorary (NRHH) and NJIT Public Safety Community Clean-Ups! Community Pick-Ups vary in location throughout the semester. Grabbers, gloves, and bags will be provided. Sign up here!
Greater Newark Conservancy (connect to this organization through NJIT Career Development Services (CDS))
Newark Science and Sustainability (connect to this organization through NJIT Career Development Services (CDS))
Additional Community Service Opportunities
Ironbound Community Corporation
https://ironboundcc.org/programs/
Circle K International
CKI empowers college students through service to local and global communities. Join the Discord link below, it's the central hub for meetings, games, and plenty of service opportunity announcements!
Red Cross League
Work is both on and off campus and can be counted to either or both. Please contact Camila Sierra-Gutierrez: cs479@njit.edu
Knit & Crochet
Help the local community by creating your donation. To learn more or join the club, find them on Highlander Hub: Knitting Crochet
NJIT's Career Development Services (CDS) has additional opportunities. ADHC Scholars are encouraged to reach out to CDS to learn about additional volunteer opportunities which align with their skills and interests!
Additional Future Opportunities:​
Alternative Spring Break - NJIT
If you would like your organization's opportunity listed here, please contact honors@njit.edu.